T
he 11
th
African Games were held in Brazzaville, Republic of Congo from September 4
th
to 19
th
2015.  The games are an offshoot of the Olympic Games, but as the name suggests, only African countries are eligible to take part.  Generally, Nigeria does very well in the games and 2015 was no exception.
Generally, Nigeria does very well in the games and 2015 was no exception
Background
Nigeria came 2nd in the overall medal table narrowly losing the top spot to Egypt.  Nigeria earned an impressive total of 144 medals, of which 47 were gold, 55 silver and 42 bronze.  This count took Nigeria's total medal haul for all 11 games participated in to 934 (334 gold, 305 silver and 295 bronze).  Once again, only Egypt is ahead of Nigeria in the overall medal table.




The Paralympians topped their medal table with a total of 31 medals, broke down as 12 gold medals, 11 silver and 8 bronze medals.  Paralympian women's power lifter Esther Onyeama set a new world record by lifting 133kg breaking the previous record of 126kg, which she herself set!
Overall, the female athletes collected more medals than their male counterparts, striking gold in the 100m hurdles (Oluwatobiloba Amusan), 400m hurdles (Amaka Ogoegbunam), silver for Ajoke Odumosu in 400m hurdles and a bronze for Lindsay Lindley in 100m hurdles.  Further gold medals were won by the 4x100m relay team (Cecilia Francis, Blessing Okagbare, Ngozi Onwumere, Lawretta Ozoh), the 4x400m relay team (Rita Ossai, FunkeOladoye, TosinAdeloye, Patience Okon George), long jump (Chinazom Amadi), discus throw (Claire Uke),  javelin throw (Kelechi Nwanaga) and the heptathlon (Uhunoma Osazuwa).  The women also earned silver and bronze in the 200m dash (NgoziOnwumere and LawrettaOzoh, respectively), silver in 400m by Patience Okon George and finally, Ibrahim Blessing Ibukun and Claire Uke both won silver won in triple jump and shot put, respectively.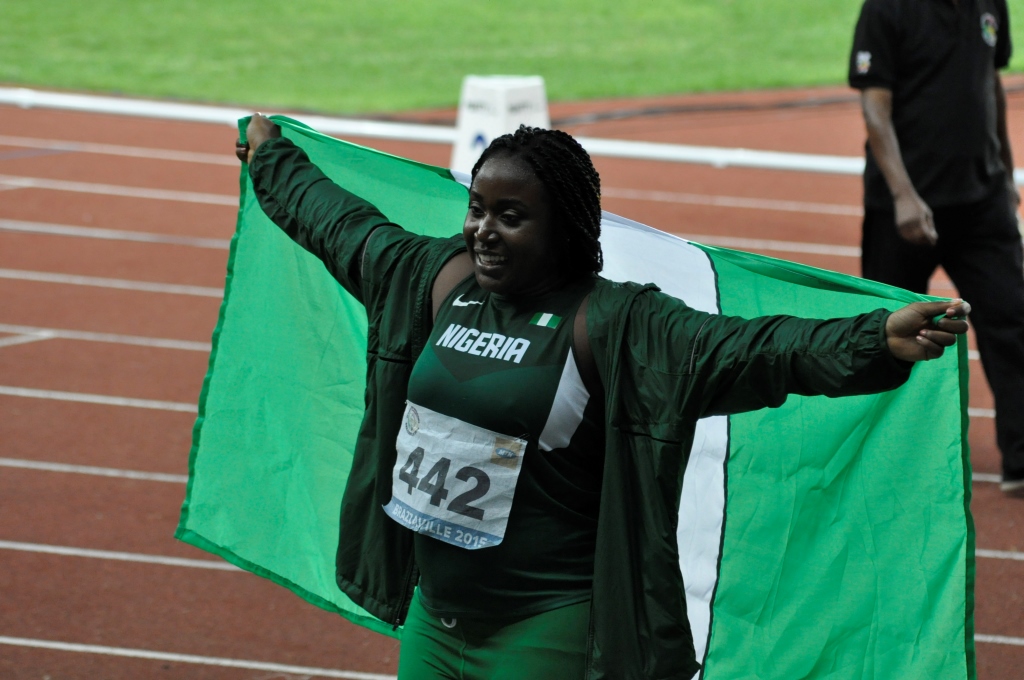 On the other hand, the men achieved gold medals in long jump (Samson Idiata) and triple jump (Tosin Oke).  Silver medals were claimed in triple jump by Olumide Olamigoke, 100m race (Ogho-Oghene Egwero) and 200m race (Divine Oduduru) while a bronze medal went to Tyron Akins for the 110m hurdles.
Unsurprisingly, the Paralympians also brought back a strong haul of medals to Nigeria as well.
Men's medals:
Gold  (1)- Amarakuo Solomon for shot put F56/57
Silver (4) – Olusegun Francis Rotawo in the 100m T11 and 200m T11' and Edosomwan Osahon in discus F54/56 thrower and shot put F54/56
Bronze (3) – Anthony Imbimoh for discus throw F54/56 and Gbolohan Olaiya for javelin throw F42/44 and discus F43/44.
Women's medals:
Gold (3) – Lovina Onyegbule in 100m T11 and 200m T11 and Flora Ugwunwa in discus throw F54/57
Silver (3)– Flora Ugwunwa in javelin throw F54/56, NjikekaIyiazi in discus throw F54/57 and shot put F54/57
234 Impact
---
Nigeria has been considered a great sporting nation for decades and her most recent performance and finish in the top tiers of the 11th African Games only further cements the country's reputation for sporting excellence.  For a country that has had its share of negative internal issues, the performance of these athletes provide an inspiration to a younger generation of Nigeria that their country still holds the potential to yield great and amazing feats.